Mickie's Ketubah Gallery features three types of ketubahs for your wedding. In the Ketubah Gallery, you can choose from Offset Lithograph Ketubahs, Giclee & Simple Text Ketubahs, or Hand Painted Original Ketubahs. Feel free to click on the images below in the Ketubah Gallery to view the many design options of ketubot of each type. If you have any questions or need any guidance, we can be reached at 1-800-Ketubot or via email.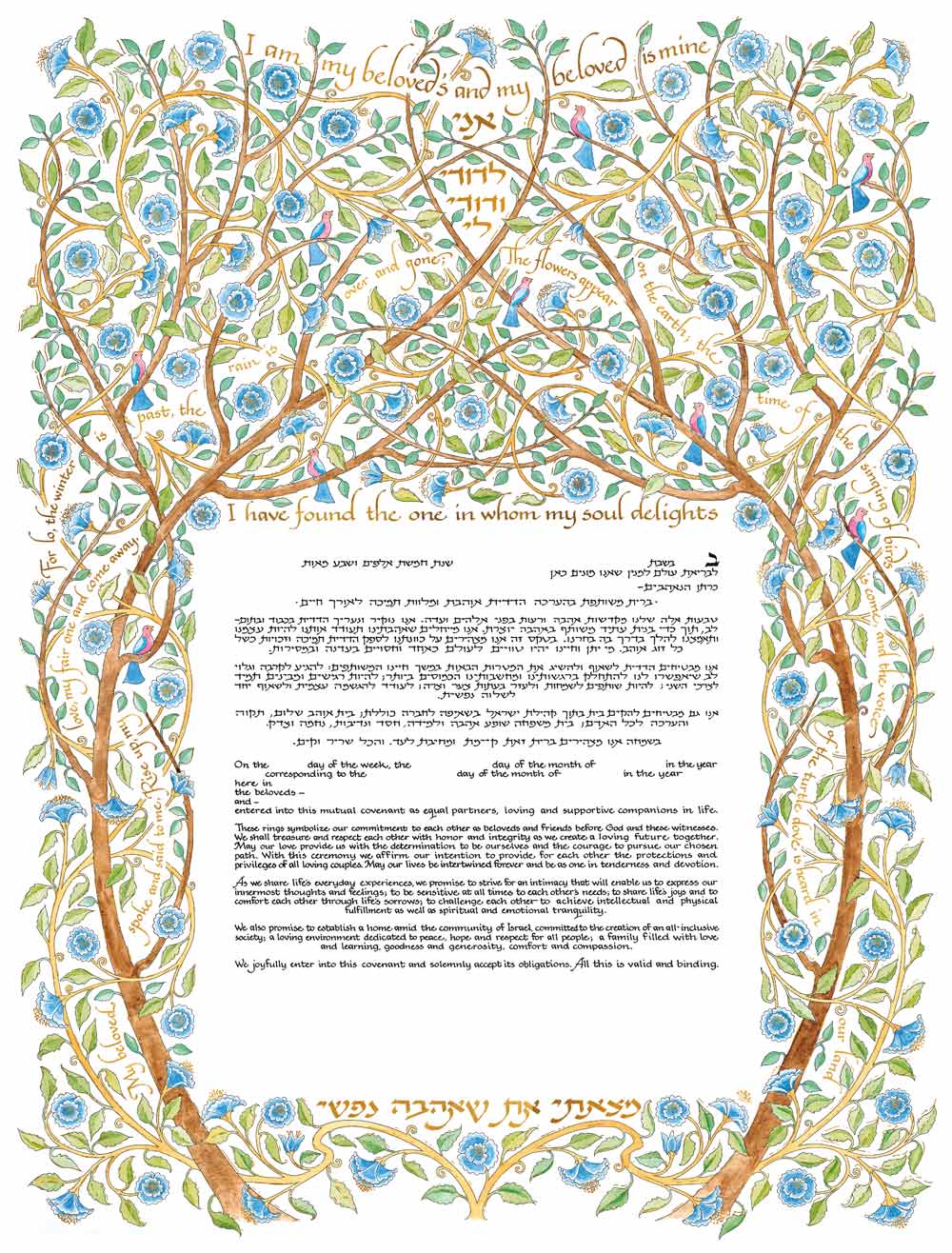 See all Offset Lithograph Ketubah Options
An offset lithograph uses the 4 color printing process to create a high quality ketubah on fine art, acid-free paper. After printing, the ketubah is stamped with gold foil to enhance the artwork so that it shimmers & shines in the light. The offset lithograph ketubahs by Mickie are printed in Israel in a limited edition run. Mickie individually pencil signs and numbers every ketubah. Each offset lithograph ketubah comes with eight pre-printed text options. Mickie can hand calligraph all of the personal information of the bride and the groom to match her existing calligraphy. At the ceremony, all that is needed are signatures.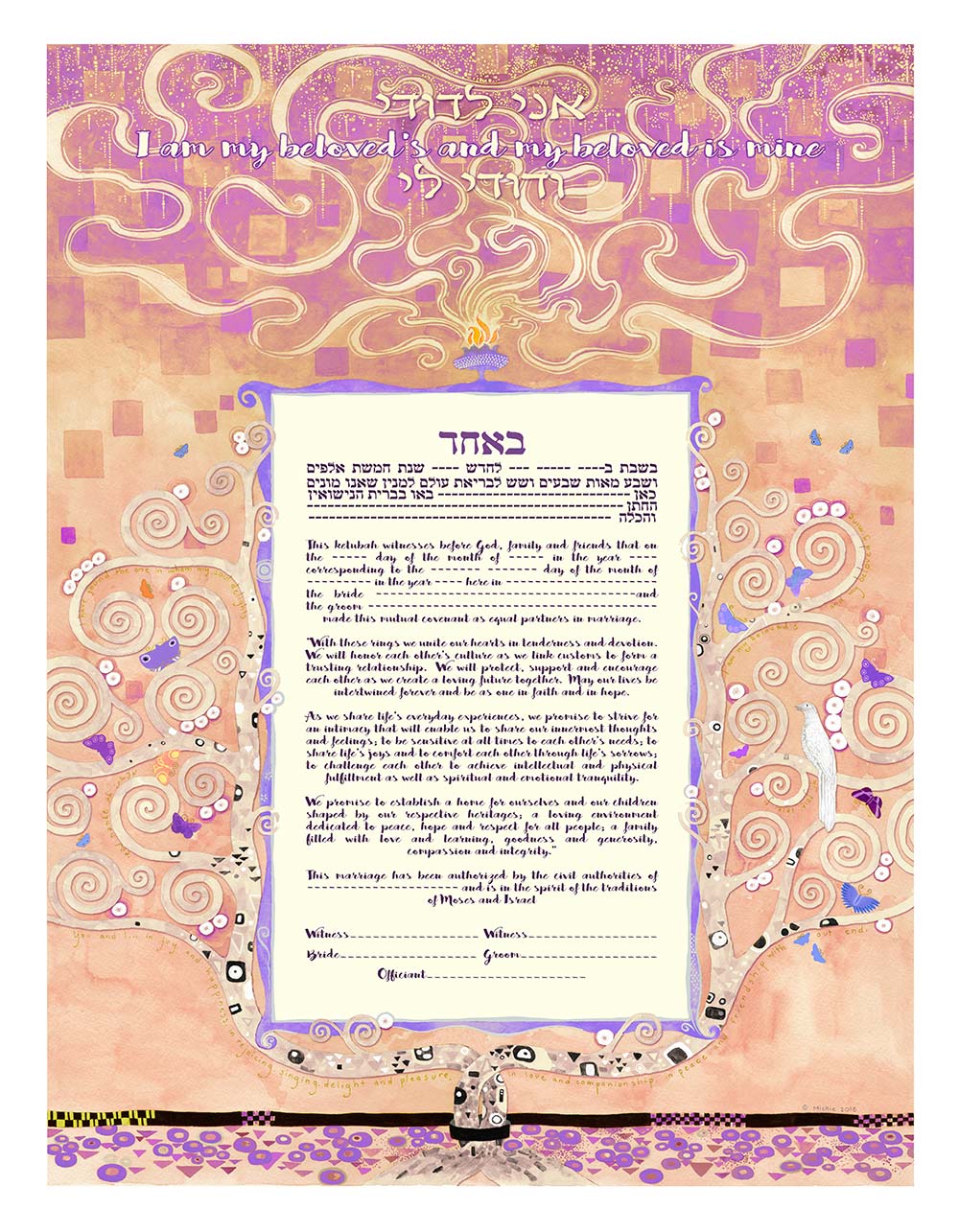 See all Giclee Ketubah Options
Giclee is derived from French, meaning 'sprayed on'. It is a digital technology that uses high quality inkjet printers to create individual fine art prints (as opposed to using a printing press to create the offset lithograph ketubot). Mickie's Giclee ketubot begin with original hand painted artwork which is scanned to create a digital file. The use of computer software and tablet, allows Mickie to customize each ketubah. Each giclee ketubah can have different color variations, and are printed in different sizes on Entrada Rag Natural paper. The colors look fantastic. The only thing that cannot be done is gold foil stamping onto the ketubah. Mickie can paint on gold highlights by hand for an additional cost, but the gold paint is subtle and does not shine like foil stamping would.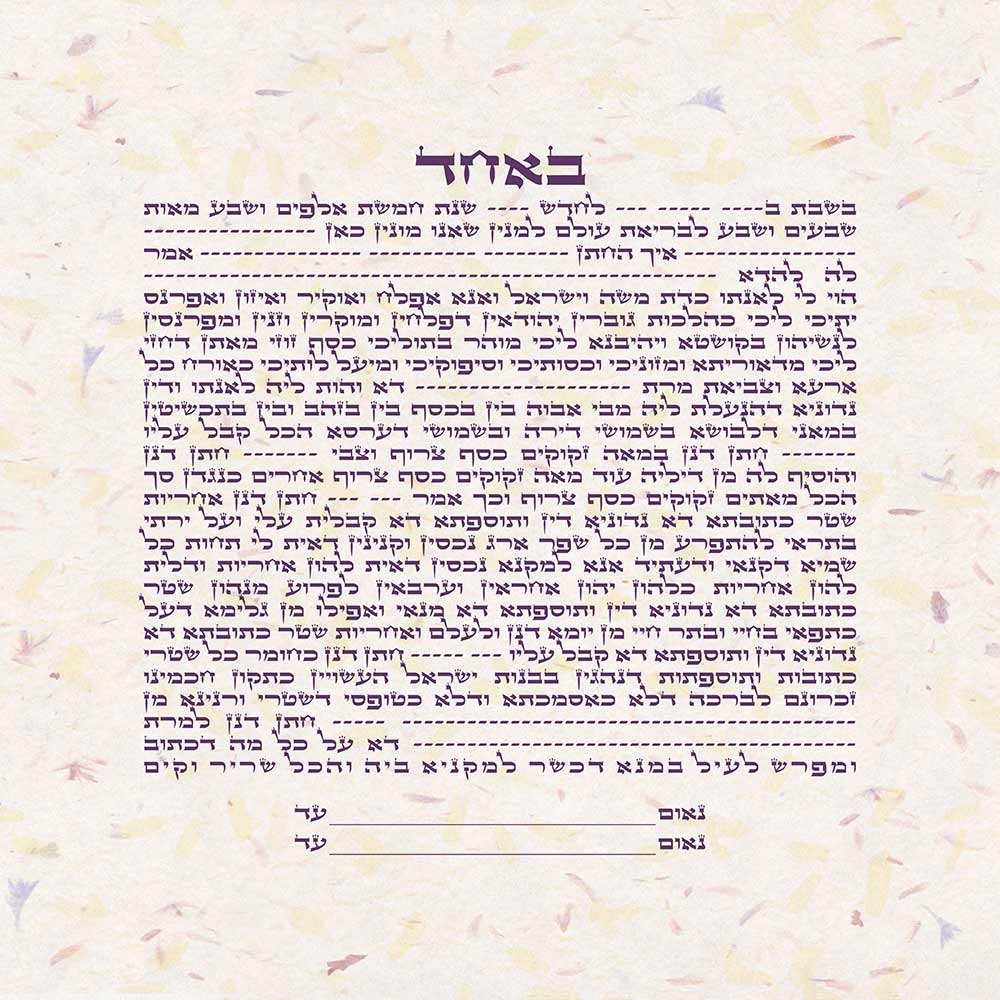 See all Simple Text Ketubah Options
Mickie's Simple Text Ketubahs are also Giclee prints. For those couples who would like a simpler look, there is a large selection of simple artwork to choose from. You can also request adjustments to the size, shape or color of the ketubah. For those who are artistically inclined, but do not know how to navigate the intricacies of writing a ketubah text, you can choose to have a text printed on fine art paper or canvas in order to adorn it by yourselves.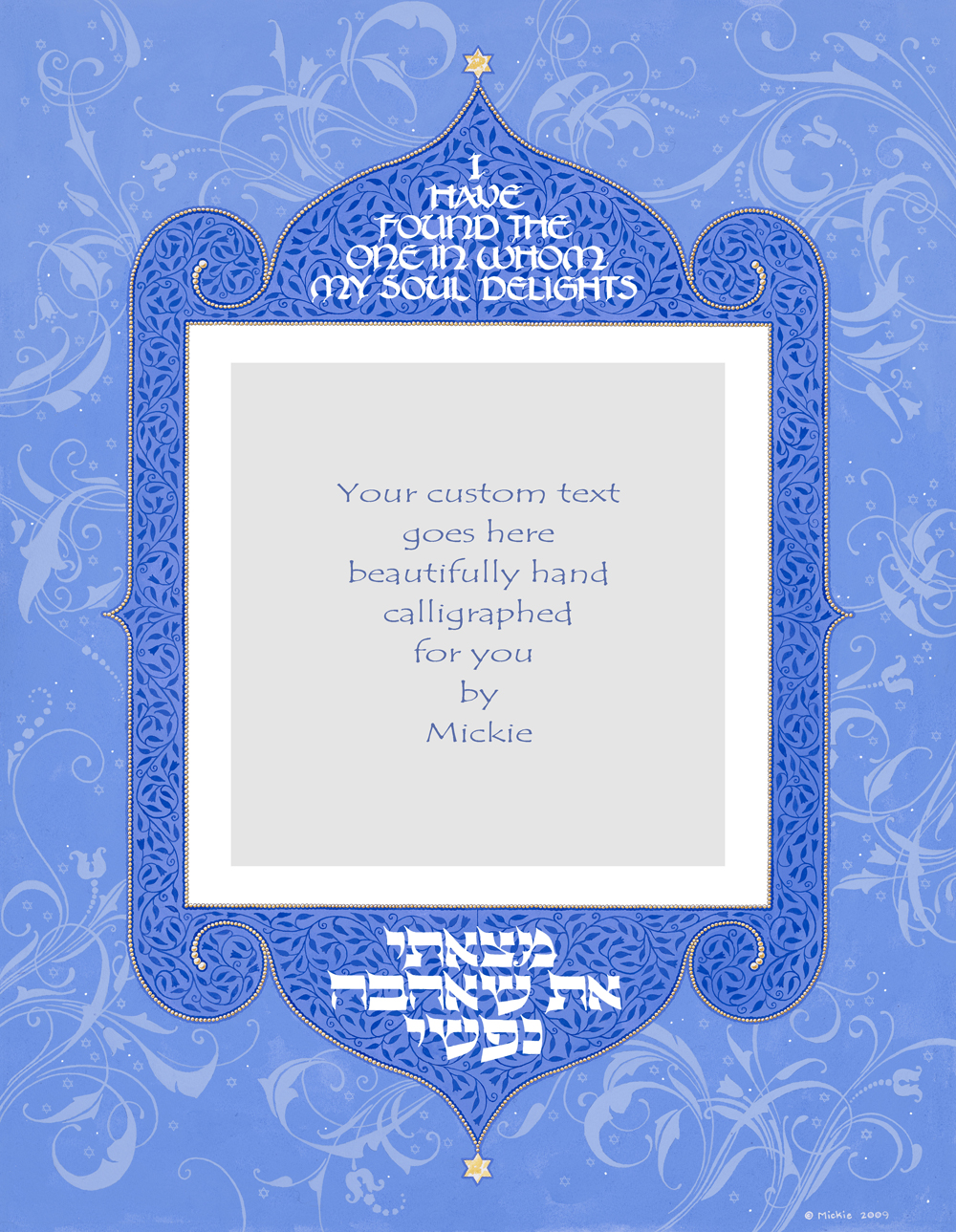 See all Hand Painted Original Ketubahs
Hand Painted Original Ketubahs are one of a kind, original ketubot that begin with a blank piece of watercolor paper, pen, brushes, paint and the skill and vision of the artist to take your ideas to create the perfect ketubah that best reflects your beliefs and tastes. All of the ketubot in this gallery are examples of what can be created. If you would like to commission an original hand painted ketubah, Mickie will work with you to make your design a reality. "I love listening to the interesting ideas that couples envision adorning their ketubah, and then trying to create a work of art for them that is a manifestation of their own ideas and a creative expression of who they are as a couple. From teacups, tents, and kitties, to eagles, unicorns, and dragons, I always think "Now I've seen it all!…" until the next couple comes along and I know that I will never have seen the endless creativity of people in love!"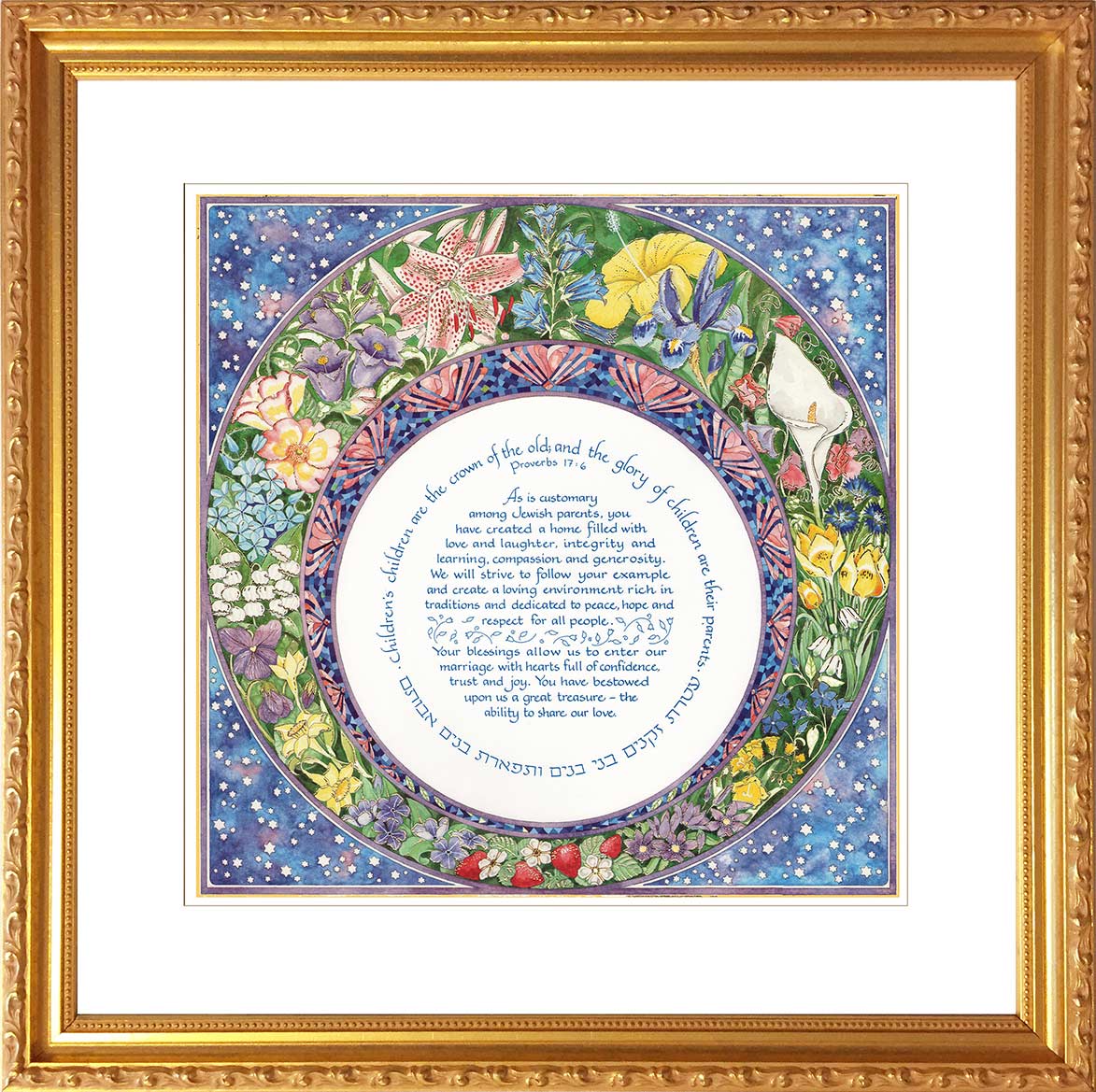 Wedding Parents Gifts
Wedding gifts for parents are a thoughtful way for a bride or groom to thank her or his parents during the wedding ceremony. These Parents Gifts by Mickie are a meaningful and unique tribute to the parents who helped the bride and groom arrive at this special occasion. It honors the parents and thanks them for raising the family and teaching them about sharing love.