Self isolation is a bummer! Will 20% off cheer you up?
We know that we are all living in really difficult times. We are all keeping our distance from each other in an effort to stop this virus. We are thinking about all those who are self isolating for an unforeseeable amount of time, those whose jobs are on hold, and those who may have been furloughed, temporarily laid off or lost their jobs. Caspi Cards & Art is offering a 20% discount on all of our products from now until April 30, 2020. From Ketubahs for your delayed or postponed weddings, to beautiful 'Good Health Blessings' for your home or to send to a love one. And let's not forget all those wonderful doctors and healthcare workers who save lives every day – a gorgeous 'Healing Arts' gift or 'Prayer for the Physician' would make a nice thank you gift!
Good Health Blessings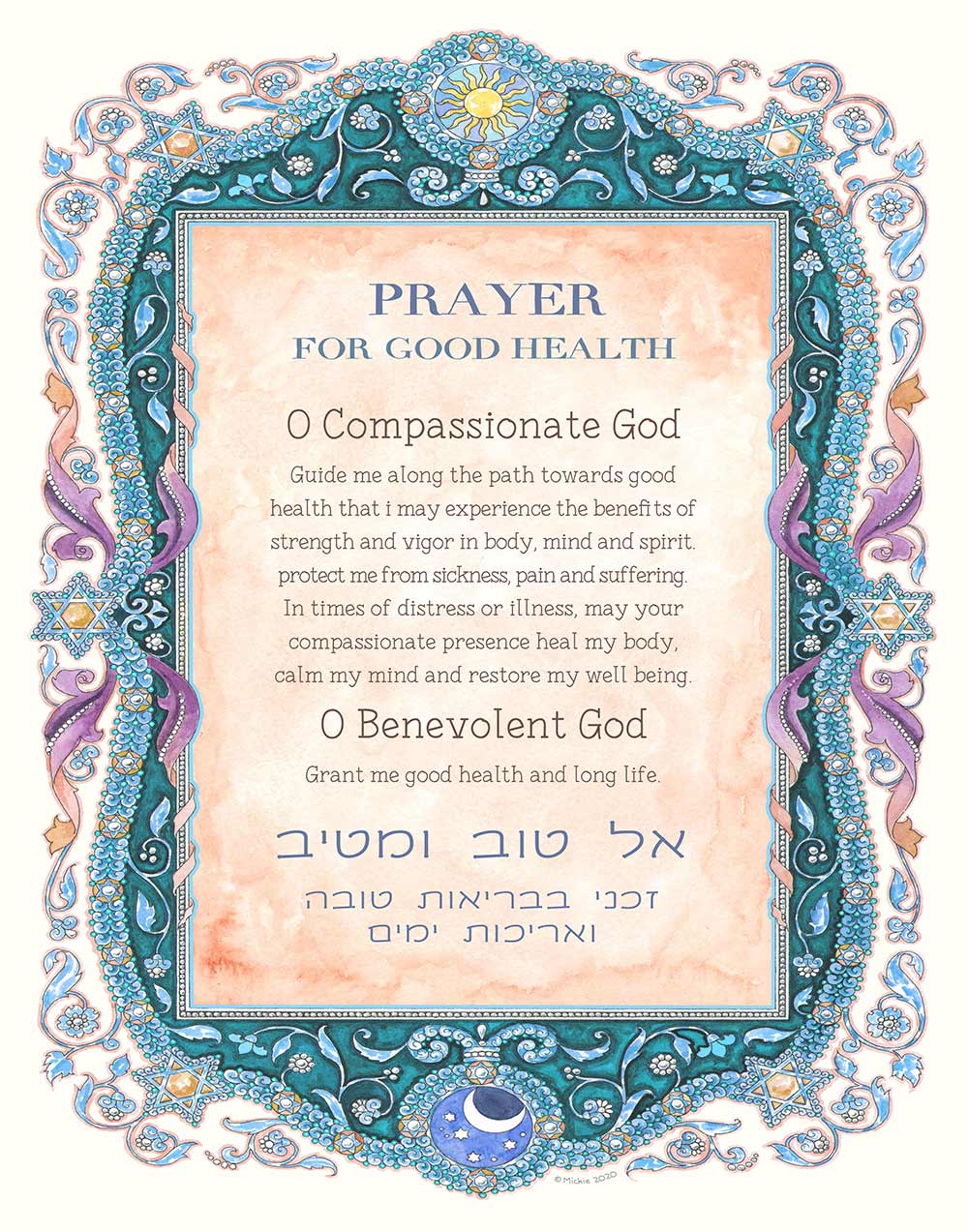 Mickie has created a beautiful line of Custom Good Health Blessings Fine Art Prints using modern giclée printing technology to bring you Customizable Art and Personalized Gifts. These custom giclée prints are fully customizable and specifically designed to be shared and given as a truly one-of-a-kind personalized gift.
Good Health Blessings Fine Art Prints by Mickie Caspi incorporate the Prayer for Good Health into finely crafted illuminations with English & Hebrew texts. Each individually produced custom giclée print is offered in different choices of size, text, and finish. Each can be personalized to your specifications.
Mickie originally hand painted all of the lovely and unique artwork using fine watercolor paints and inks on Strathmore 300 series watercolor paper.
Colors can be changed for an additional fee. If you would like to discuss an original giclée creation, please email us. We will reply with a quote by email or phone.
Enjoy browsing through the website – because now you have the time!
Stay home ~ stay safe ~ This too shall pass