Mickie Caspi and Caspi Cards & Art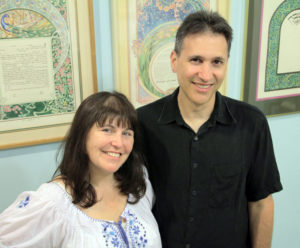 After years of creating original artwork for individual clients, Mickie Caspi decided to bring her creations to a larger audience. Together with her husband Eran, Mickie established Caspi Cards & Art in 1990. To better enable her to concentrate on the creative process, Eran took over the daily management of the business. Over the past 30 years, Mickie Caspi and Caspi Cards & Art has innovated the ketubah business by offering dozens of ketubah designs in a variety of texts. We introduced the first pre-printed Interfaith text as well as a gender neutral text that could be used by same-sex couples. In 2003, we wrote an all English Humanist text to be used by secular couples, as well as couples searching for a more modern interpretation of the ketubah text.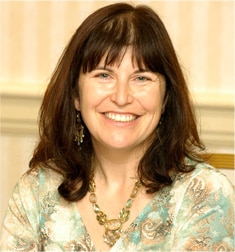 Mickie and Eran also pride themselves on being able to meet any deadline ("Can you help me, I'm getting married tomorrow!"). Since 2000, Caspi Cards & Art has produced the Jewish Art Calendar, available at Jewish galleries & bookstores throughout the United States. In addition to ketubot and calendars, Caspi Cards & Art offers Mickie's beautiful designs as framed prints, greeting cards, certificates for bar & bat mitzvahs and baby namings, smartphone cases, ipad covers and a line of acrylic products that include mezuzahs, car mezuzahs, key chains and magnets. All of Mickie's artwork is available through your local Judaica bookstore or gallery.
Mickie Caspi Artist's Profile
Mickie is an Israeli-American artist and calligrapher who has been specializing in Judaica since 1980. Her hundreds of original designs are reproduced on ketubot, greeting cards, Judaic art prints, calendars and more. Among the many sources that inspire Mickie's delicate watercolor designs are traditional Jewish motifs, Persian and Arabic illumination, contemporary graphics, as well as art nouveau and art deco. Being an avid gardener, she loves to incorporate the beauty of nature into much of her artwork.
Mickie grew up in Highland Park, IL and first learned Hebrew while living on Kibbutz Nachshon, Israel as a child from 1970-1973. Introduced to art from a very young age by parents who were both artists, Mickie formally studied art at Columbia College in Chicago (Class of 1982) where she discovered a love for the simple elegance of calligraphy. She made aliyah to Israel in 1982 and spent seven years as a freelance artist and calligrapher, first on Kibbutz Harel and then in Jerusalem. She returned to the United States in 1989 and established Caspi Cards & Art. She currently resides in Newton, Massachusetts with her husband and business partner, Eran. Mickie and Eran have three children and two grandsons.
Yoga in Paris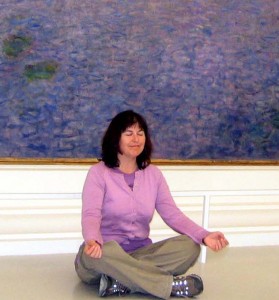 On a wonderful trip to Paris, Mickie Caspi was inspired by Monet's Water Lilies at the Musee de l'Orangerie to take some time out for a relaxing moment or two. She has been engaged by Kripalu Yoga for the past 20 years and finds the practice refreshing, relaxing and a great way to clear her mind. Through yoga, she both finds inspiration and the motivation to head back to the drawing board.
Mickie Caspi Etsy Shop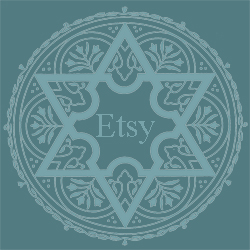 Mickie Caspi's Etsy Shop features highlighted items from Mickie's Judaica Collection. As a proud member of the artist community, Mickie has created an Etsy shop for those who prefer to shop at Etsy.