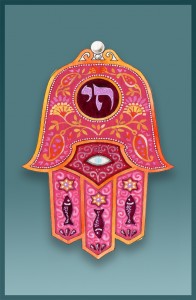 Although named car 'mezuzah', it is not a traditional mezuzah (which is only placed on walls in homes and synagogues). For the car, it is actually a decorative box that holds a Travelers Prayer. In all of the car mezuzahs created by Mickie Caspi for Caspi Cards & Art, the Hebrew travelers prayer scroll is rolled up and placed inside the car mezuzah and is visible through the clear sides of the acrylic. An English translation of the travelers prayer is printed on a backer card and is included with each car mezuzah.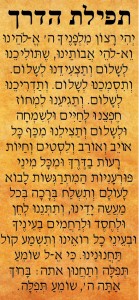 To actually mount a car mezuzah, you may use the double-sided tape to adhere it anywhere on the dashboard or to any surface near the door of the car. You may also place it in the glove compartment (although you won't enjoy the artwork as much).
Again, since there is no halachic or religious significance to a car mezuzah (maybe because cars had not been invented back then?), there are no prayers to recite when mounting a car mezuzah. However, it is traditional to recite the travelers prayer when one sets out on a journey (even just to the supermarket). So whenever you set out in your car, you will rest easy in the knowledge that your beautiful car mezuzah encases a travelers prayer scroll.
#mickiecaspi #caspicardsandart #ketubah #mezuzah #carmezuzah #protection #watercolor #judaica #judaicaartist #jewishhome #jewish #judaism #jewishart #jewishpride #car #cardecor #newlywedhome #homedecor #unique #amulet #travelerprayer #travelersprayer