The Caspi Family and Caspi Cards & Art would like to wish you all a happy and healthy Pessach. Here is the recipe for Eran's Mom's Famous Matza Cake – Yummy! Share your favorite Pessach Recipes below.
Eran's Mom's Famous Matza Cake – עוגת מצה
Ingredients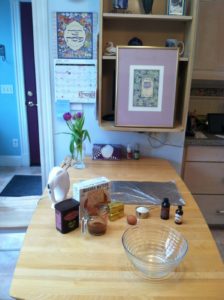 2 Tablespoons Cocoa
¼ Cup Coffee, strong and warm
2 Sticks Butter (or Non-Dairy Buttery Spread)
1 Egg
½ Cup Sugar
½ teaspoon Vanilla Extract
1 teaspoon Almond Extract
8-12 Pieces Matza
Grape Juice, Orange Juice or sweet wine
Preparation
Take the butter (or non-dairy substitute) out of the fridge and let soften at room temperature.
Mix the cocoa into the coffee and stir until well mixed, then let cool.
When butter is soft, combine all of the ingredients in a bowl and combine well (best with a mixer) until a rich, and slightly thickened butter cream is formed.
Pour grape juice, orange juice or sweet kiddush wine into a dish large enough to dip the Matza. You can use 1, 2 or all 3 liquids.
Dip both sides of a piece of Matza in the liquid, then place on a flat surface lined with plastic wrap.
Spread the butter cream on the Matza.

Repeat steps 5 & 6 until you use up the butter cream. The thicker the layer of butter cream, the sweeter the cake will be, but you should have at least 8 pieces of Matza.
Align all of the layers of the Matza so that it will be easier to cut.

Wrap the cake in the plastic wrap, and then wrap this in aluminum foil.

Refrigerate Cake overnight.
If you don't want to use the raw egg in the recipe, you can omit it.
#mickiecaspi #caspicardsandart #pessach #passover #passover2018 #freedom #rebirth #love #joy #tikkunolam #holiday #holidayweekend #passoverseder #seder #sederplate #judaism #matza #gefiltefish #passoverfood #jewishdimsum #matzacake