Same Sex Ketubah Text by Mickie Caspi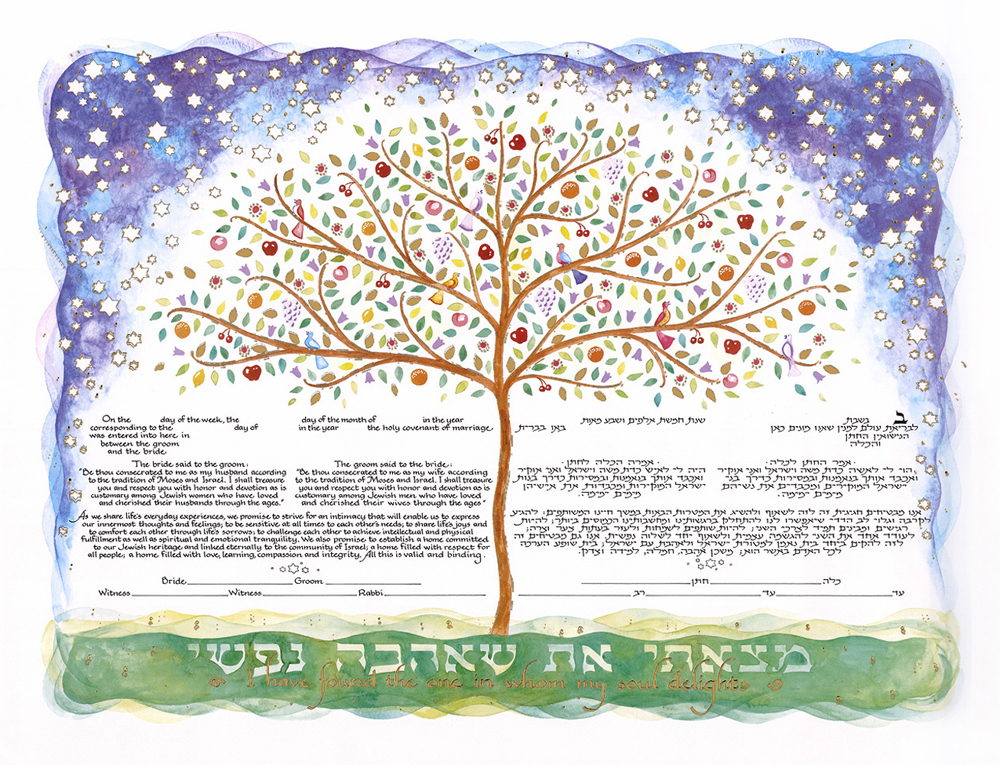 The New York Times posted an article to the web, The Composer Andrew Lippa on the Upper West Side, By Joanne Kaufman on September 4, 2015. (A print version of this article appears on September 6, 2015, on page RE4 of the New York edition with the headline: The View From Two Armchairs). In the article, Andrew Lippa discusses the ketubah, a Jewish wedding contract, he and his husband David Bloch have hanging on the wall of their hallway: "It's very special to us, because it was a time in 2008 when it was a pioneer-ish thing for two men to be legally wed anywhere," Mr. Lippa said. "The rabbi had the text of the ketubah changed a little bit to take out any gender things and translated it into Hebrew."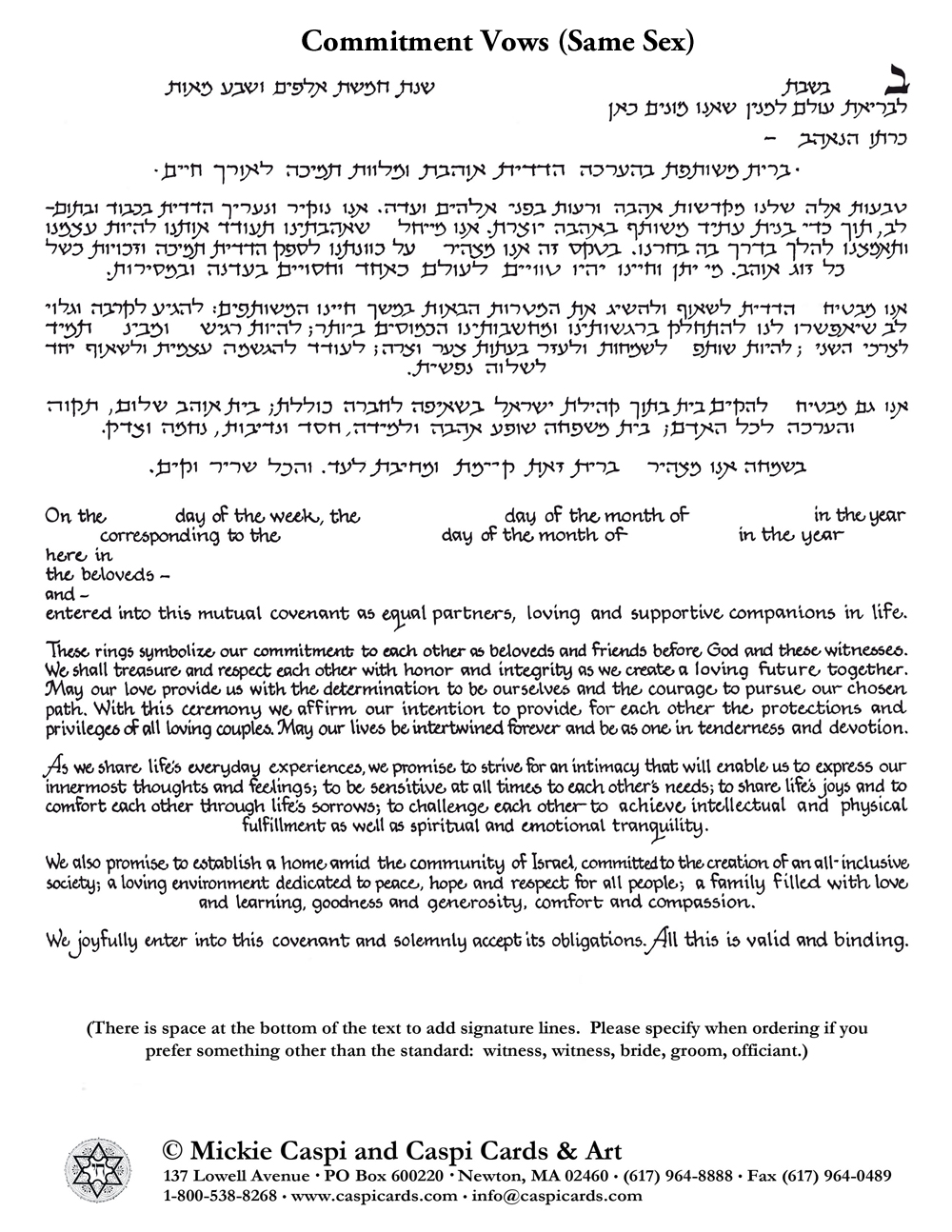 Unfortunately, Mr Lippa's qoute is not accurate. The ketubah text mentioned above was originally written by Mickie Caspi, an Israeli-American artist and calligrapher and her husband and business partner, Eran Caspi in 1993. It was first published in 1994 and copyrighted and registered with the Library of Congress on May 2, 1996 (Form TX 4-284-376). The rabbi mentioned did not change, write or translate the text as stated – it was originally written in English and Hebrew as a Gender Neutral Ketubah text for Same Sex Commitment Ceremonies by the artist and her husband. This was the first commercially available, pre-printed same-sex Ketubah text and it innovated the ketubah industry. As Mr. Lippa states, it was a "pioneer-ish thing" to offer the text long before the movement for same-sex marriage gained traction. Today, most if not all ketubah artists offer a text modeled after it, but in the mid 1990's it was not widely available. The photo by Tony Cenicola showing the ketubah text is the Tree of Life Ketubah with the Alternative Egalitarian, Gender Neutral text for Same-Sex Weddings created by Mickie Caspi.
We are currently awaiting a correction/clarification by the New York Times…
UPDATE
From The New York Times – scroll to the bottom of the article to see the following:
Correction: September 9, 2015
An earlier version of this article contained an erroneous reference to Andrew Lippa and David Bloch's ketubah, or Jewish wedding contract. The text was written by Mickie Caspi, who also designed the ketubah; her father-in-law, Zvi Caspi, translated it into Hebrew. The rabbi who married the couple did not change the text or translate it into Hebrew.
Kudos to the Times for a quick and thorough correction.
#mickiecaspi #caspicardsandart #ketubah #ketubot #gaymarriage #samesexmarriage #gaywedding #samesexwedding #genderneutralketubah #samesexketubah #gayketubah #lgbtq #brideandbride #groomandgroom #gettingmarried #gaypride #loveislove #equallove #jewishweddings #iammybeloveds #beloved #love #ketubahart #marriage