Mickie Caspi Ketubah
MAZEL TOV ON YOUR WEDDING!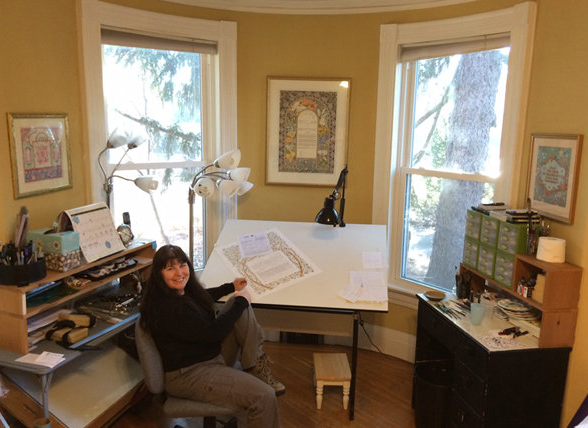 A Mickie Caspi Ketubah is often the first work of art purchased by a couple as they embark upon a life together. All of my designs are original watercolor and/or gouache illuminations that are printed on fine archival modigliani paper in Israel using an offset lithographic process. Each Ketubah is stamped with gold foil for an eye catching shimmer. All Ketubot are limited edition and are pencil signed and numbered.
I hand personalize the texts with all of your pertinent information and can help you with spelling, dates and other information (I speak and write both English and Hebrew). I have been crafting ketubot for brides and grooms as my full time job for over 34 years and have a lot of experience with all kinds of requests. If you have any questions at all, don't be shy! I'm nice! I don't bite! Just call me at 1-800-KETUBOT or email me! That's what I'm here for.
TIMING
The best time to order your Ketubah is a few months before your wedding. I know that the best laid plans sometimes go awry and very often I end up doing rush ketubot – some as late as a few days before the wedding. It's usually never too late to receive a hand personalized ketubah, but I am not a machine. I am sometimes out of town or sick. Please CALL (1-800-KETUBOT) or email me if your wedding date is a week or less away to make sure that I can complete your ketubah for you! When ordering, please tell us your wedding date, so that we can ensure your ketubah will arrive in time. In over 34 years, I have never been late to a wedding.
TEXT CHOICES
I offer a wide range of texts so that you can find the one that is right for you. I also offer all of the ketubah designs blank (that is, with no pre-printed text) if you would like to create your own custom text. Each Ketubah is a limited edition offset lithograph, individually pencil signed and numbered by me. If a text is no longer available, it will not appear in the drop-down menu of Available Texts on the individual Ketubah page. My texts include the following:
Traditional Aramaic only – for orthodox weddings
Traditional Aramaic with English – for orthodox weddings
Lieberman Clause with English – for conservative weddings
Egalitarian Hebrew and English – for reform weddings
Modern English with Hebrew heading – for interfaith weddings
Anniversary with Hebrew heading – for anniversaries
Alternative Egalitarian – for reform weddings
Commitment Vows (Same Sex) – for LGBT weddings
Humanist English only – for secular, interfaith or non-Jewish weddings
If you would like to read the actual texts, you can read them all at our Read Ketubah Texts page.
ORIGINAL KETUBOT
If you do not see the ketubah of your dreams, you may contact me and I can make an entirely custom hand painted ketubah just for you based on your own specifications. Call or email me and we can talk about creating your own original work of art. Or view some designs in my Original Ketubot Gallery. Prices for custom original ketubot vary, but most often range between $1200 and $3000.
Please order your custom, original ketubah at least four months in advance of your wedding date.
Custom ketubot ship flat in protective packaging.
​#mickiecaspi #caspicardsandart #ketubah #ketubot #calligraphy #calligrapher #bride #groom #gettingmarried #engaged #wedding #weddings #jewishweddings #iammybeloveds #beloved #love #ketubahart #marriage #interfaithwedding #samesexmarriage #realwedding #chuppa #judaica #jewishpride #mazeltov #jewish #smashingtheglass #gaymarriage #gaywedding #samesexwedding #genderneutralketubah #samesexketubah #gayketubah #lgbtq #brideandbride #groomandgroom #gaypride #loveislove #equallove #interfaithmarriage #interfaithketubah interfaithcommunity #theknot​