KETUBAH HISTORY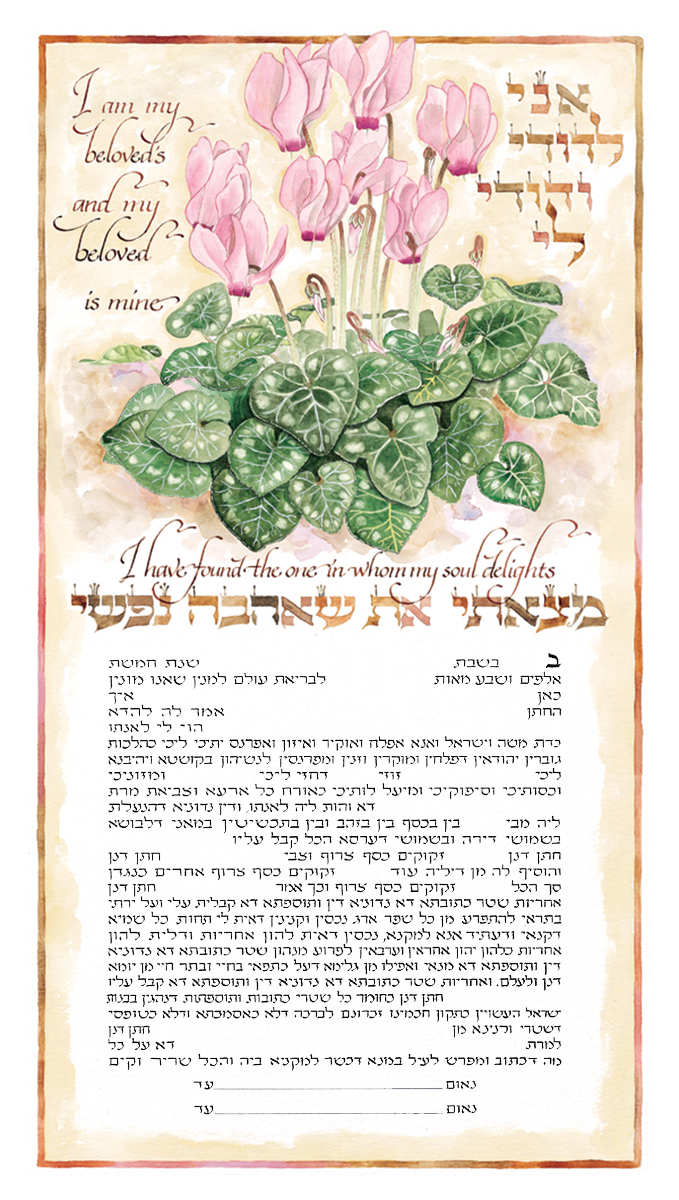 The Ketubah is a Jewish marriage contract that was introduced into the Jewish wedding ceremony approximately 2,500 years ago. It was written in Aramaic, the spoken language of the Jews of the time, so that everyone would understand the written contract. The word Ketubah – כתובה, actually comes from the Hebrew root 'to write'.
To this day Aramaic has remained the language of the traditional Ketubah. In the contract, the husband undertakes to honor, support and maintain his wife, and to live with her in affection and amity. It specifically states that he will provide her with food, clothing and sexual satisfaction as well as what she will receive in the event of divorce or of his death.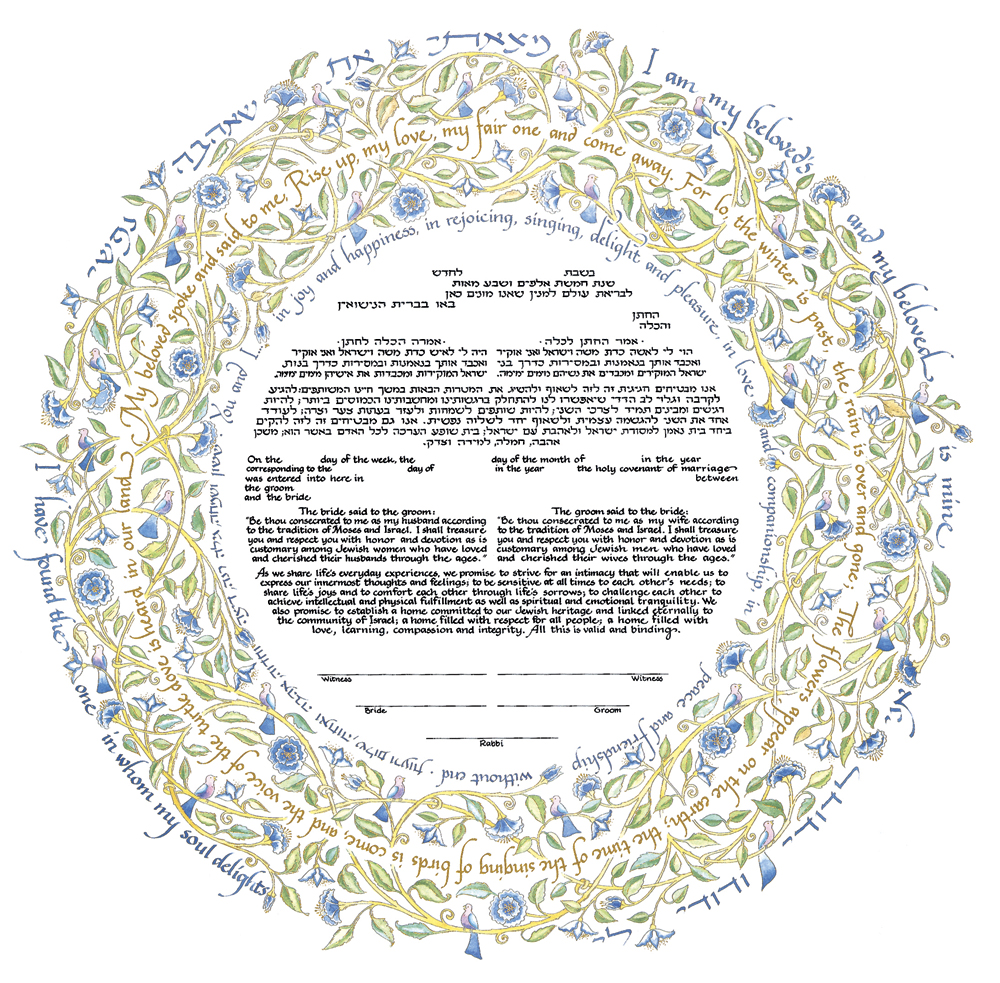 Although the traditional text has undergone little change through the centuries and to many couples seems antiquated, it is important to remember that the ketubah was developed to protect the Jewish wife and to ensure her future. It was a very forward looking document for its time.
Nevertheless, modern couples increasingly prefer a document that describes a more egalitarian marriage and a text that portrays their own spirituality, not one steeped in pre-Talmudic Judaism. Mickie's ketubot are available with a variety of texts from the traditional to the modern, to allow today's couples to choose a text that best reflects their ideals and beliefs. In addition to the Orthodox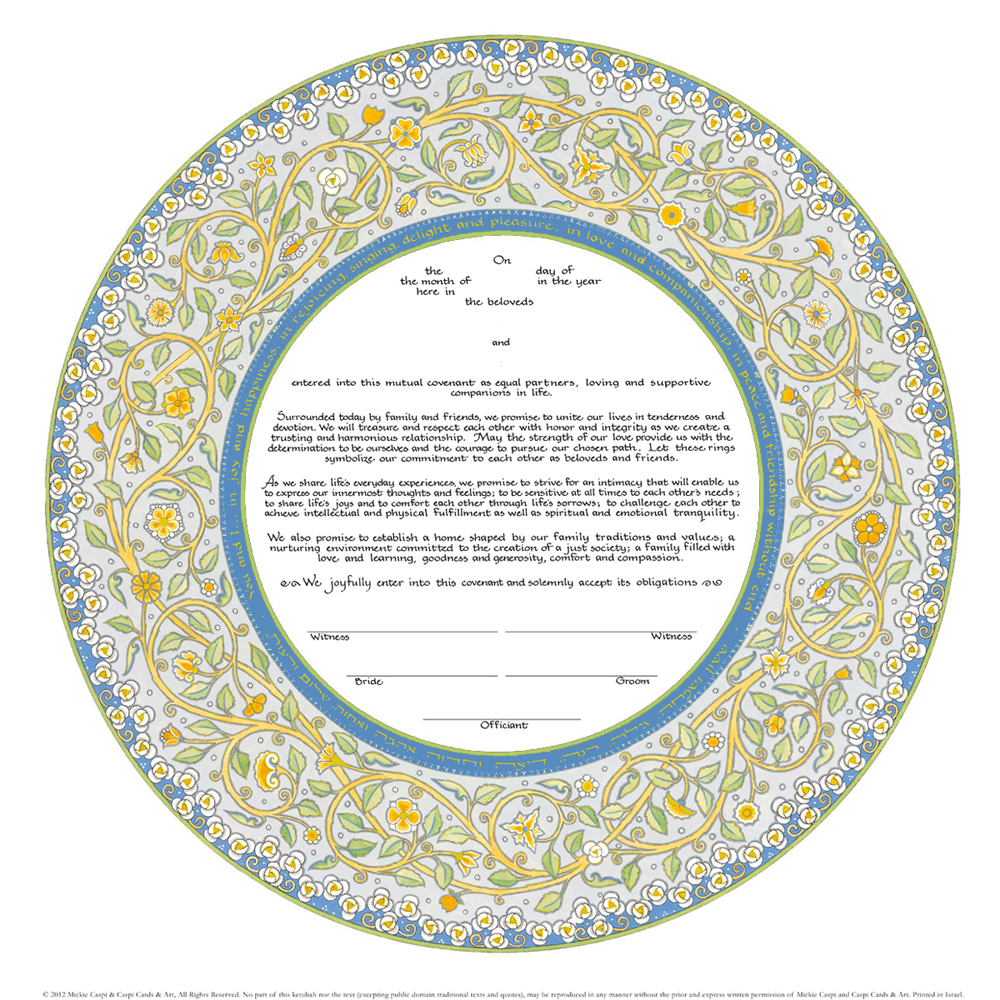 text, Mickie's ketubot are available for Conservative or Reform couples and include options for Interfaith, Same Sex and Secular weddings. There is even an Anniversary text!
Beyond the text, the ketubah document has attracted artistic adornment through the centuries and has become a significant expression of Jewish art. This is due to the fact that the ketubah has often been displayed at the wedding itself and in the home following the ceremony. With the use of calligraphy to ornament the text itself and a vast host of designs to enhance and beautify the border, the Ketubah has evolved into a unique expression of Jewish Art that also reflects a couple's feelings for each other as they embark on their life long journey.
​#mickiecaspi #caspicardsandart #ketubah #ketubot #calligraphy #calligrapher #bride #groom #gettingmarried #engaged #wedding #weddings #jewishweddings #iammybeloveds #beloved #love #ketubahart #marriage #interfaithwedding #samesexmarriage #realwedding #chuppa #judaica #jewishpride #mazeltov #jewish #smashingtheglass #gaymarriage #gaywedding #samesexwedding #genderneutralketubah #samesexketubah #gayketubah #lgbtq #brideandbride #groomandgroom #gaypride #loveislove #equallove #interfaithmarriage #interfaithketubah interfaithcommunity #theknot